Korea air show – Ansan
Korea air show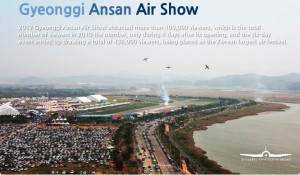 Preparation for Korea air show "EXPO 2012" is being made now to take place commencing 3rd October 2012. The event is sponsored by Ministry of Knowledge Economy, Ministry of Land, Transport and Maritime Affairs, Korea Air Force Headquarters, Korea Aerospace Research Institute, Korea Aerospace University, Hanseo University, Young Falcons of Korea, Korea Civil Aviation Development Association, Federation of Korea Aeronautics, Korea Sports Aviation Association, Aircraft Owner and Pilot Association Korea, Gyeonggi Techno Park. A short promotional video is here. Gyeonggi Ansan Air Show 2012 will be operated as a venue where not only the people who are engaged in aviation industries, but also others who love the aviation culture get together and interact with each other and enjoy the show. A short video is here taken during the show in 2011.
+++++++++++++++++++++++++++++++++++++++++++++++++++++++++++++++++++++++++++++++++++++++++
In 2011 – The Global Stars YAK 50 formation team displayed for the first time in Ansan, Korea on the 5th – 10th May 2011. The team was lead by Rolandas Paksas former Prime Minister and President of Lithuania with fellow countrymen Robertas Noreika and Algimantas Zentelis wing men and Mark Jefferies flying box. Antanas Marciukaitis chief engineer and test pilot. 438,000 people visited the show over 6 days.